Wash & Chop Root Crops
The i60 Cleanafeed is a low maintenance, self-loading, durable feeding implement for cleaning, washing and chopping root crops, ideal for supplementary feeding.
The i60 Cleanafeed can be rear-mounted and is supplied with a hydraulic top link as standard. It can also be mounted on a telehandler where a universal bracket is supplied instead of the hydraulic top link.
A rotor paddle removes loose clay through an open framework and an anti-bridging device ensures an even feed of material to the chopper unit. The wash bar mechanism can be fitted to a water supply and has a low water requirement.
The i60 is hydraulically driven. In the event of the hydraulically driven chopping mechanism becoming blocked due to a stone or other foreign object, the blockage can be removed through the hinged door on the rear of the chopper box. As well as large root crops such as beet, there is an optional attachment plate which enables feeding of potatoes, vegetables, maize, grains and other feed compounds.
Specifications
Technical Drawings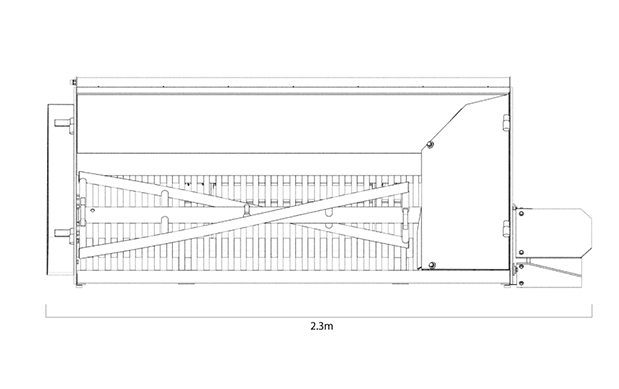 Weight and Dimensions
| | |
| --- | --- |
| Transport Lenght (m) | 1.60 (5'2") |
| Transport Width (m) | 2.50 (8'2") |
| Height in Transport (m) | 1.00 (3'3") |
| Weight (kg) | 500 (1,102 lbs) |
| Capacity (cu m) | 1.2 (42 cu ft) |
Bale Dimensions
| | |
| --- | --- |
| Max Bale Weight (m) | 500 / (1,100 lbs) cap. |
Hydraulics
| | |
| --- | --- |
| Min. Oil Consumption (l/min) (US gal/min) | 35 / 9 |
| Min. Oil Pressure (l/min) (US gal/min) | 150 / 2200 |