Overview
The 1814 Series is an efficient static square and round bale wrapper. Ideal for wrapping at the point of stacking.
The wrapper is fully automatic and can be operated via radio remote control from the tractor cab, allowing a single operator to load, wrap and stack bales. The 1814 Series has hydraulically adjustable rollers which can quickly adjust to handle bales from 0.6m to 1.4m in height and 1.9m in length.
Key Features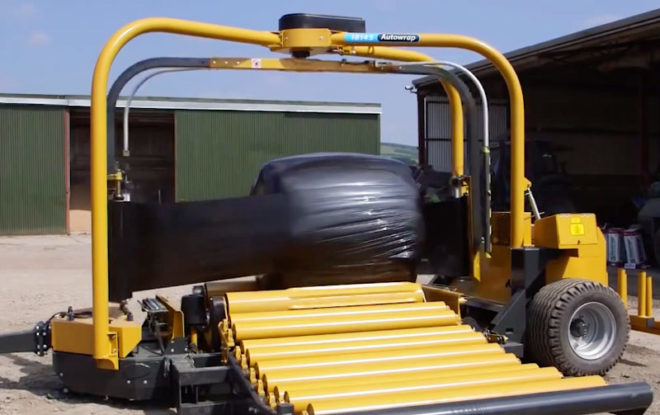 Machine Leveling
The level of the machine can be hydraulically adjusted at the front and rear to ensure bales are level while wrapping.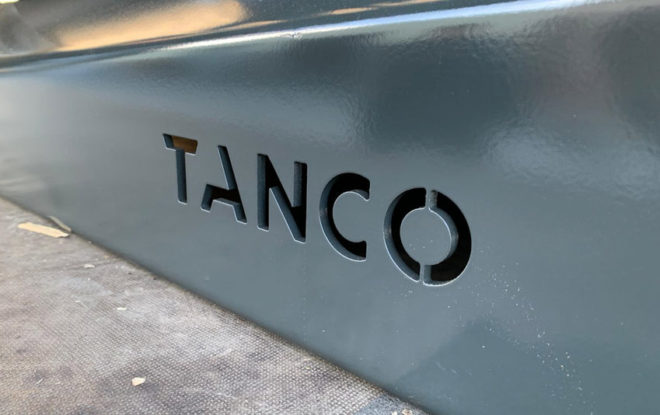 Wrap & Stack
The 1800 Series can wrap and stack bales in a single operation, reducing labour, tractor hours. Wrapping and Stacking also reduces the number of times wrapped bales are handled, reducing the risk of damage to the bale.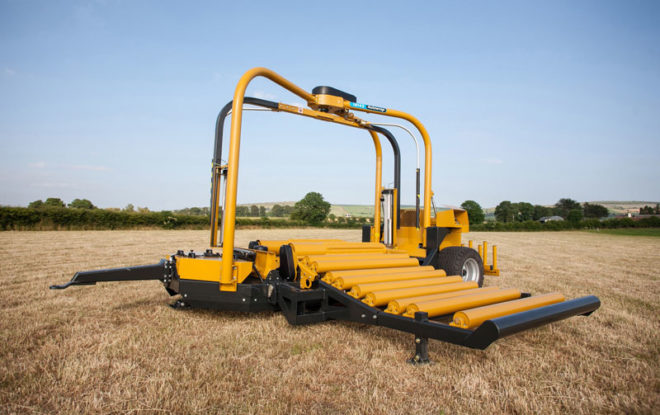 Off Load Conveyor
An optional off-load conveyor ensures bales are handled with allows for more manageable bale handling. Bales can be placed on their flat end with the optional End-Tip kit, where plastic concentration is greatest, reducing the risk of damage to the bale and also ensuring bales do not roll once off-loaded.
1814 S
Wrap Large Bales at the Point of Stacking
The S100 A is the entry model to the renowned S series and delivers many of the great features of the series at an affordable price.
With a single satellite wrap arm, the S100 A is fully automatic with all controls managed through the RDS Expert controller.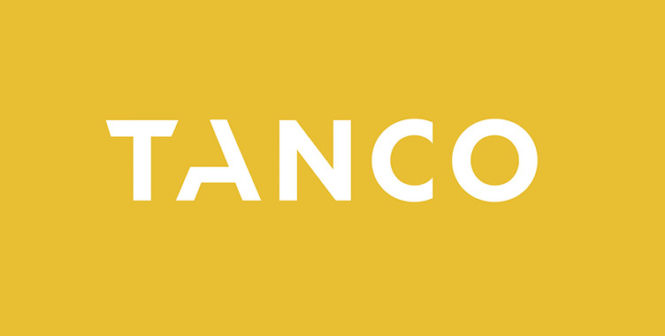 Wrap Arm Unfold and Fold
Tanco's patented system for unfolding and folding multiple wrap arms into a single cut and hold system has made it possible for 3 point linkage wrappers, which are lighter and more compact than their trailed counterparts, to reach the highest levels of performance and bale count.
Telescopic Cut & Start
A patented system, the telescopic Cut & Start extends to three times its resting state extending and then retracting to gather the film into a single strand. Once gathered and held, only then is the film cut, resulting in an ultra-reliable system you can have confidence in.
Variable Speed Hydraulics
The use of proportional hydraulics means hydraulic functions, such as wrap arm speed, can be variably adjusted to ramped up and down ensuring a smoother and more consistent wrapping operation, resulting in less vibration and longer machine life.
RDS Expert Plus Controller
The Expert Plus controller has a larger screen for faster data input and read-out.
Standard Features
Film Break Sensors
Tanco Dual Stretch Aluminium Dispenser
with 55% & 70% stretch options built in.
Individually driven pick-up rollers
Telescopic Cut & Start
RDS Expert Plus Controller
Optional Extras
End-Tip Kit
Places bales on their end where plastic coverage is greatest and avoids bales rolling
Ground Roller
Takes the weight of the bale and machine in cases of lighter tractors
Radio Remote Control
6 and 4.5 meter extension cables for use with telehandlers
Specifications
Weight & Dimenions
| Weight and Dimensions | 1814-S | 1814-Arc |
| --- | --- | --- |
| Transport Length (m) | 3.42 (11'2") | 3.42 (11'2") |
| Transport Width (m) | 2.44 (8'0") | 2.44 (8'0") |
| Height in Transport (m) | 3.40 (11'1") | 3.40 (11'1") |
| Weight (kg) | 2,550 (5,622 lbs) | 1,450 (3,197 lbs) |
| Wheel dimensions (standard) | 480 / 45-17 | 480 / 45-17 |
Bale Weight & Dimenions
| Bale Dimensions | 1814-S | 1814-Arc |
| --- | --- | --- |
| Width x (Min. - Max. Diameter) (m) | 1.5 x (0.80 - 1.70) | 1.5 x (0.80 - 1.70) |
| US Round Bale Dimensions (ft) | up to 5 x 5.5 | up to 5 x 5.5 |
| Max. Bale Weight (kg) | 1,500 (3,307 lbs) | 1,500 (3,307 lbs) |
| Max. Square Bale Size | | |
| --- | --- | --- |
| Width x Height x Length (m) | 1.2 x 1.4 x 1.9 | 1.2 x 1.4 x 1.9 |
| US Square Bale Dimensions (ft) | 4 x 4 x 6 | 4 x 4 x 6 |
| Min. Square Bale Size | | |
| --- | --- | --- |
| Width x Height (m) | 0.47 x 0.8 | 0.47 x 0.8 |
| US Square Bale Dimensions | 1.5 x 2.6 | 1.5 x 2.6 |
Technical Data
| Hydraulics | 1814-S | 1814-Arc |
| --- | --- | --- |
| Min. Oil Consumption (l/min) (US gal/min) | 50 / 13 | 50 / 13 |
| Max. Oil Consumption (l/min) (US gal/min) | 60 / 16 | 60 / 16 |
| Min. Oil Pressure (bar) (PSI) | 180 / 2600 | 180 / 2600 |
| Free Flow Return Required | Yes | Yes |
| Load Sensing Option | No | No |
| Operation | 1814-S | 1814-Arc |
| --- | --- | --- |
| Cable Controlled Valve Bank | No | No |
| Joystick Controls | No | No |
| Programmable Computer Controls | Yes | Yes |
| Remote Control | Yes | Yes |
| Automatic Hydraulic Cut & Start | Yes | Yes |
| Auto-Load | No | No |
| Pre-Stretcher | 1814-S | 1814-Arc |
| --- | --- | --- |
| One Pre-Stretcher 750 mm (30") | No | No |
| Two Pre-Stretcher 750 mm (30") | Yes | Yes |
| Three Pre-Stretcher 750 mm (30") | No | No |
| Adapter for 500 mm (20") Film | Opt | Opt |